New "CAMTS & CAMTS EU" Worldwide Standards for Medical Transport Systems
3 minute(s) read
When it comes to transferring a patient from one place to another, we want to ensure the patient's safety, comfort and wellbeing along the way. There are several factors to consider when transporting a patient. These include the patient's condition, the distance, equipment, team of medical professionals, and the facility transferred to. The Commission on Accreditation of Medical Transport Systems (CAMTS) and the Commission on Accreditation of Medical Transport Systems Europe (CAMTS EU) accredited BDMS emergency services and awarded a seal of quality for medical transport services. These accreditations are considered the most prestigious certifications a medical transport service can achieve. Accreditations are granted to medical transportation services that demonstrate compliance to standards and demonstrate their ability to deliver high quality services.
Dr. Trin Charumilin, MD., the president of BDMS Emergency Services, chose the CAMTS accreditation as it is the worldwide standard for medical transport services. This ensures the highest quality and safety in medical transport services. In order attain CAMTS accreditation, the medical transport service must pass a rigorous review of all their services including the company's mission and vision statements, management, medical care, transportation vehicles, vehicle maintenance, communications, medical transportation personnel, heliports, infection controls, legal policies, ethics, and trained health care professionals.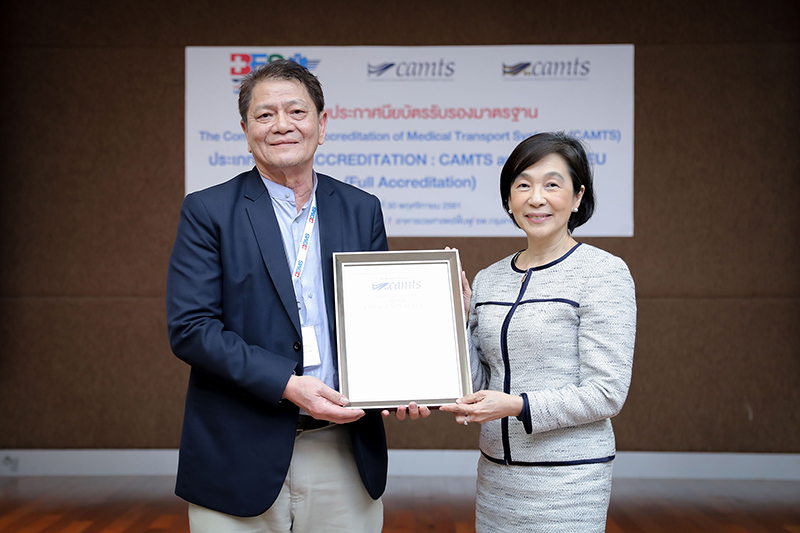 ​
​
In addition, quality assessment is conducted regularly in order to improve the quality of services, risk control and management.
Dr. Trin explains that BDMS Emergency Services are dedicated to improving the quality and safety of medical transport services for patients in need of basic and advanced life support, critical care and specialty care. A CAMTS-accredited medical transport service demonstrates to the public that it cares about the quality of patient care and safety and is committed to providing a highly proficient and professional service. The comprehensive audit provided by CAMTS to determine compliance with accreditation standards provides a medical transport service with the ability to identify opportunities to streamline costs and enhance effectiveness and also incorporates a risk management program and comprehensive training in the BDMS Simulation Center. 
BDMS Emergency Services received CAMTS full accreditation for ground, sea, and air transport in 2015 and recently received the CAMTS EU accreditation. BDMS Emergency Services is the second provider in Asia and third in the world to receive CAMTS-CAMTS EU dual accreditation.
​
Moreover, BDMS Emergency Services are the first medical transport service provider in the world to receive sea transport accreditation. We are also the first in Asia to pass all transportation categories including rotor wing, fixed-wing, medical escort, surface critical care, and surface-boat. There are 13 hospitals in BDMS that received ground, sea, and air transport accreditation: 
Bangkok Hospital
Samitivej Sukhumvit Hospital
Samitivej Srinakarin Hospital
Bangkok Chiang Mai Hospital
Bangkok Pattaya Hospital
Bangkok Udonthani Hospital
Bangkok Phuket Hospital
Siriroj International Hospital
Bangkok Samui Hospital
Bangkok Sanamchan Hospital
Bangkok Ratchasima Hospital
Phayathai 2 Hospital
Phayathai 3 Hospital
​
In addition, Dr. Trin announced that BDMS Emergency Services received CAMTS-CAMTS EU dual accreditation for 
Dispatch center and 13 bases
3 fixed–wing aircrafts (operated by MJets)
Emergency Helicopters – Sky ICU (operated by Bangkok Helicopter Services)
Medical escort team for air transportation
Surface critical care – ambulances, 3 motorlances, and 2 hydrolances (medical boats) at Bangkok Samui Hospital and Bangkok Pattaya Hospital.
There are teams of medical transportation personnel for sea, air, land, and dispatching. Moreover, there are advanced support systems including communication, quality control, and safety reporting systems. These systems are regularly reviewed and developed to ensure the highest standards of care and safety.
BDMS Emergency Services are dedicated to providing the best medical transport services 24 hours a day to help patients get the care they need, whether they have suffered an emergency in a different country or want to return home to their doctor with bedside-to-bedside support. With CAMTS-CAMTS EU dual accreditation, patients and family can be sure that we deliver the best quality out-of-hospital care and transportation possible.
​