Bangkok Mental Health and Rehabilitation Center Therapeutic Activities
2 minute(s) read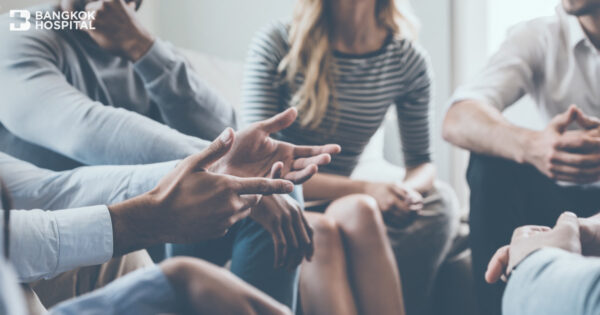 Psychosocial Rehabilitation
The Mental Health Rehabilitation and Recovery Center offers a variety of services which include psychotherapy, family therapy, and marriage counseling conducted by experienced professionals through a selection of purposefully designed activities to suit the needs of each individual patient.The goal is to provide an opportunity to learn and grow in a homely and friendly environment where the patient is able to take appropriate skills to better enhance their quality of life.
Rehabilitation Activities (Learning)
Emphasis is placed upon 'Learning New Skills' in both a group and individual setting. Our services may prove beneficial for people suffering from depression, anxiety, bipolar disorder, as well as alcohol and drug abuse (including cigarettes).  Our services are applicable to both inpatient and outpatients. To maximize effectiveness inpatients will be able to receive full therapeutic services continually for 3 weeks. Outpatients will select rehabilitation programs in accordance to their specific needs under the guidance of the Mental Health Rehabilitation and Recovery Center personnel.
At the Mental Health Rehabilitation and Recovery Center we can help with:
Anger Management

Communication Skills

Relapse Prevention

Self-Esteem

Assertiveness

Mastery

Conflict Resolution

Depression, Anxiety, indications of Bipolar Disorder

Cognitive Behavioral Therapy

Addiction

Treatment with psychiatric medication
 
Emotional health can have a profound impact upon physical well-being. As such it is important to maintain a healthy balance between the two (Life Balance).
Walking

Yoga, Tai Chi

Personal Trainer for specific exercises

Nutrition, Diet Control Consultation, Lunch Club

Fit and Firm for all ages (3 weeks program) 
Stress Reduction 
Stress can lead to physical deterioration, weariness, and insomnia. Many people may choose to relieve stress through alcohol and cigarettes however these are often ineffective and comes with a number of health risks.
Below are some examples of the programs we offer:
Relaxation Technique (Muscle Relaxation, Breathing Exercise,Imagination)

Yoga

Hydrotherapy (Water Based Treatment)

Aromatherapy

Mindfulness

Thai Massage
Art and Creativity
Our activities are designed to boost creativity and imagination through art helping patients relax in a peaceful environment. 
Examples of our Programs:
Creative Art (Water Color Painting)

Game Night

Clay Work

Movies Club

Gardening

Book Club

Music Therapy

Singing 

Cooking, Baking, and more
The right type of activities can go a long way towards boosting mental health with emphasis being placed on the activities themselves rather than the end product. Patients will fulfill their potential through the support of expert staff of the Mental Health Rehabilitation and Recovery Center including experienced psychiatrists, psychologists, psychotherapists, activity therapists, and psychiatric nurses.
Guidelines:
Appointments for services should be made at least one weak in advance. Call 1719. (limited availability for certain programs)

Please prepare clothes and therapy manuals (if any) on the day of therapy.
---
For more information, please contact