Must Know! Possible adverse reactions after getting COVID-19 vaccine
3 minute(s) read
Please be informed that currently Bangkok Hospital cannot provide COVID-19 vaccination service. As soon as the vaccine is readily available, we will keep you updated.
Despite the fact that the coronavirus disease, COVID-19 appears to be unpreventable, COVID-19 vaccine significantly helps to mitigate disease severity. Similar to other vaccines, COVID-19 vaccine can produce a wide range of undesired effects, extending from mild to severe reactions. To remain safe after vaccination, it is vital to know and be aware of these possible effects, allowing for an appropriate care and emergency medical assistance, if needed.
Adverse reactions or side effects after receiving COVID-19 vaccine
Common undesired reactions after COVID-19 vaccination are usually mild and self-recovering. In general, it is highly recommended to observe any abnormal sign or symptom 30 minutes after vaccine administration. However, severe allergic reactions are often reported to develop within 15 minutes after vaccine is given. Frequently found side effects include:
Mild side effects:
Pain, redness or swelling at the injection site
Low-grade fever
Headache
Nausea
Vomiting
Fatigue
Serious side effects:
High-grade fever
Heart palpitation defined as a fast-beating, fluttering or pounding heart
Chills
Difficulty breathing or chest discomfort
Severe headache
Weakness or paralysis of the face or lip
Muscle weakness
Unusual bruise, spots or bleeding
Skin rash on the body or blood blisters under the skin
Swollen face, throat or all over the body
Frequent vomiting more than 5 times
Diarrhea
Convulsion
Severe joint or muscle pain
Unconsciousness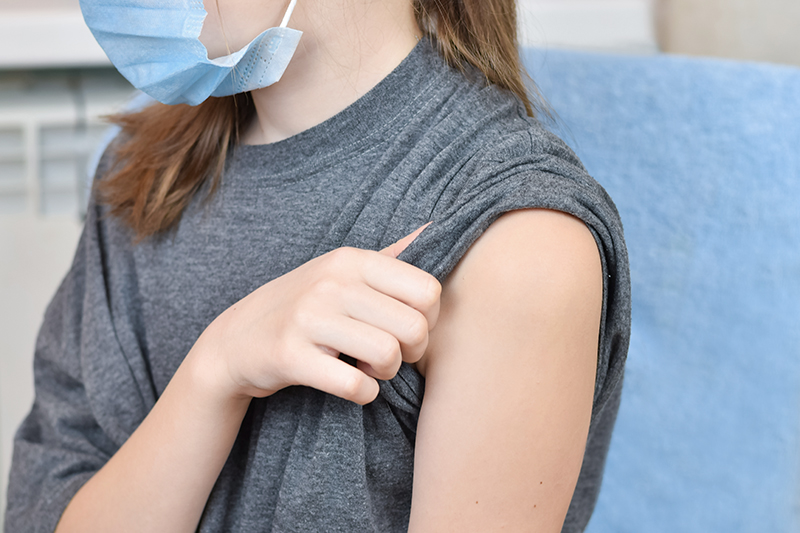 Contraindications to COVID-19 vaccine
COVID-19 vaccine is NOT recommended in:
People aged below 18
People who have had previous history of serious allergic reactions to vaccine (s)
People who have had blood transfusion, plasma or other blood component exchange, including immunoglobulin, antiviral drugs or antibody therapy against COVID-19 in the last 90 days
Patients with confirmed SARS-Cov-2 infection in the last 10 days. In such a case, COVID-19 vaccine can be considered at least 3 months after being infected.
Patients with underlying diseases who have shown uncontrollable symptoms, e.g. chest discomfort, difficulty breathing, shortness of breath and palpitation. If needed, vaccination needs to be advised by the specialists.
Patients with neurological diseases or nervous system disorders. If needed, vaccination needs to be advised by the specialists.
Pregnant or breastfeeding women or women who have planned for pregnancy. Vaccination might be considered if the expert's opinion can be obtained.
Immunocompromised patients or patients who take immunosuppressant drugs. If needed, vaccination needs to be advised by the specialists.
People with coagulation disorders, e.g. bleeding and low platelet count (thrombocytopenia) and patients who take anticoagulant or antiplatelet medicines. If needed, vaccination needs to be advised by the specialists.
In addition, vaccine administration should be suspended in patients who have developed acute illnesses or who have been discharged from the hospital less than 14 days. Prior to vaccination, expert's opinion is required whether patients are legible for being vaccinated. In case that abnormal signs and symptoms, such as fever, difficulty breathing and muscle weakness arise before receiving vaccine, it is extremely essential to postpone vaccine administration until symptoms entirely subside. Nevertheless, vaccination with specialist approval might be considered if only mild symptoms of common cold present.  
Since a variety of COVID-19 vaccine has been recently developed to urgently control the pandemic across the world, therefore instructions prior to and after vaccination must be strictly followed. More importantly, COVID-19 vaccine might produce unwanted effects, thus vaccine administration must be conducted in a certified hospital in which medical assistance is readily available in case that any adverse reaction arises. It is important to be aware that COVID-19 vaccination can only help to reduce the chance of infection and mitigate disease severity. In fact, COVID-19 vaccine is not claimed to prevent infection. To remain healthy, preventive measures must be regularly complied with, including wearing mask and frequent handwashing. Social distancing should be also implemented to confine disease spreading in the long-run.
---
For more information, please contact