Gastroesophageal Reflux Disease (GERD)
1 minute(s) read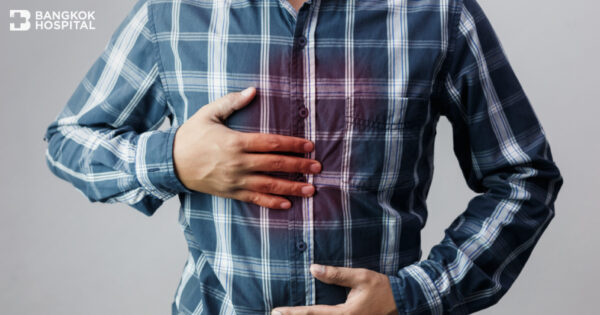 What is GERD?
Gastroesophageal reflux disease (GERD) is a condition when the stomach sphincter is open and the contents, which contain acid or gastric juice, flow into the esophagus.  This condition is common among infants and usually goes away on its own as they grow older. A very small number of people will have this condition.
---
What Causes GERD?
GERD occurs when gastric acid flowing from your stomach back up into your esophagus during or after a meal.
---
What Is Lower Esophageal Sphincter (LES)?
Esophagus is a tube like organ that connects stomach and mouth.  At the junction between the stomach and esophagus lies a ring-like muscle which acts as a valve that normally keeps food in the stomach. It also prevents the stomach content from regurgitating back into the esophagus.  This muscle is called lower esophageal sphincter.
---
GERD Specialized Hospital
GI and Liver Center at Bangkok Hospital is ready to provide consultation and treatment for anyone with gastrointestinal problems, using modern state-of-the-art endoscopic technology and treatment, covering from examination to rehabilitation after surgery.  You can ensure that you will return to your quality of life once more.
---
For more information, please contact
GI & Liver Center
2nd Floor, D Building, Bangkok Hospital
Mon, Tue, Thu, Sat, Sun 07.00 - 04.00 pm.
Wed, Fri 07.00 am. - 06.00 pm.