The Vejdusit Foundation
2 minute(s) read
In 1984, a charitable organization was established under the name of "Bangkok Hospital Foundation for Helping Destitute Patients", with a firm determination to improve the quality of life of the Thai People with its objectives as follows:
Provide free medical care to low-income patients
Provide government assistance in the field of public health
In collaboration with other charities and foundations dedicated to public services
Provide medical assistance for patients under the royal patronage and under privileged patients in Thailand
Provide scholarship to help fund medical service, nursing care, and public health researches annually
Establishment of medical teaching institutions
Non-profit organization and not involved in any politics act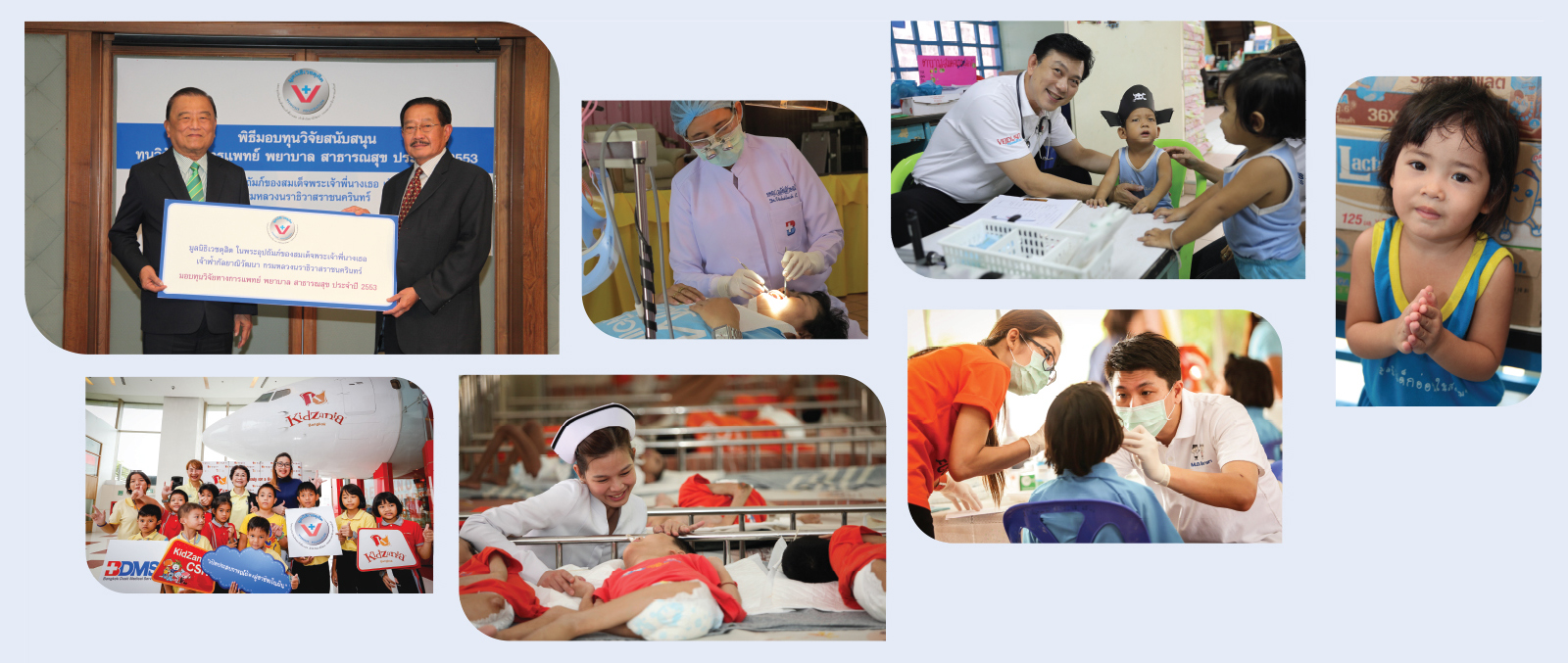 The Foundation began its mission by providing medical supports to financially challenged patients at the Bangkok Hospital. In 1999, the Vejdusit Foundation was patronized by Her Royal Highness Princess Galyani Vadhana Krom Luang Naradhiwas Rajanagarinda. Assistances have been given to philanthropic projects in terms of medical assistance and medical researches including :
a heart valve replacement project in cooperation with the Bangkok Hospital in celebration of His Majesty the King's 72nd anniversary
a Gamma Knife radio surgery treatment project in cooperation with the Bangkok Hospital for needy patients with cerebral pathology, to mark His Royal Highness Crown Prince Maha Vajiralongkorn's 48th anniversary
a kidney transplant project in cooperation with the Bangkok Hospital to mark the 80th anniversary of Her Royal Highness Princess Galyani Vadhana
a financial supports on neurosurgery for the underprivileged stroke patients, and urinary incontinence medical treatment for the underprivileged children In addition, the Vejdusit Foundation has formed a medical team from Bangkok Hospital to provide mobile medical check-up along with the donation of medicine, medical supplies, medical equipment and a list of necessary items for various groups of underprivileged people. Over the years, the Vejdusit Foundation under the Patronage of Her Royal Highness Princess Galyani Vadhana has undertaken various charitable activities to improve the country's social well-being.

---
For more information :
Vejdusit Foundation
7th Floor, Building E, Bangkok Hospital
2 Soi Soonvijai soi 7, New Petchburi Road, Bangkok 10301
Tel: +662 310 3071
Fax: +662 310 3255