Caring for Cambodia - Royal Phnom Penh Hospital
2 minute(s) read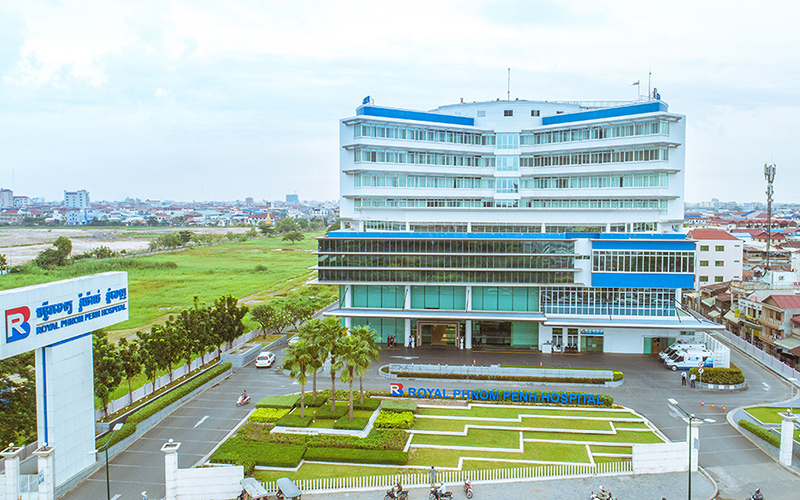 The opening of Royal Phnom Penh Hospital in November 2014 proved to be a significant milestone for medical care in Cambodia. As a member of the Bangkok Dusit Medical Services Group (BDMS), the modern facility quickly established a reputation as a centre of medical excellence, providing world-class healthcare services for Cambodian and international patients. In 2017, its standing was strengthened further when it became the first and only JCI accredited hospital in Cambodia.
At Royal Phnom Penh Hospital, a team of outstanding doctors and dedicated nurses, all trained to Bangkok Hospital's exemplary standards, are supported by state-of-the-art technology. Facilities include 100 beds for in-patient services, a 14-bed Intensive Care Unit (ICU), five operating rooms, four labour and delivery rooms, and 24-hour Laboratory and Medical Imaging services. The hospital is also affiliated with all major international insurance providers.
In Safe Hands


Royal Phnom Penh Hospital is renowned for its outstanding Emergency and Trauma Care. The Royal Emergency Services (RES) team is on standby 24 hours a day, seven days a week, ready to respond swiftly to calls and transport patients to the hospital for expert care by Thai and Cambodian physicians. Having been stabilized in the emergency room, patients may receive further treatments in an operating room, ICU, or on the general ward. If deemed necessary, rapid air evacuation with an emergency medical team can also be arranged to Bangkok or other countries by charter or commercial flights.
Royal Phnom Penh Hospital includes departments in Anesthesiology, Cardiology, Dental, Ear Nose Throat, General Surgery, Neurology and Neurosurgery, Orthopedics, Pediatrics, Radiology, and more. The hospital's reach also extends far beyond Phnom Penh and it provides medical support and expertise to independent clinics in Kampong Chan, Kampot, Sihanoukville and Siem Reap.




Caring for the Future


Currently, Royal Phnom Penh Hospital has a Cardiology Centre for cardiac angiography and interventions. Working closely with a team from Bangkok Hospital's state-of-the-art medical campus in Thailand, Royal Phnom Penh Hospital now plans to establish a highly-skilled Cardiac Surgery unit, and a Heart Clinic with equipped advanced technology. With a commitment to ensure that modern healthcare is always within reach of all people, the hospital will also launch a Corporate Social Responsibility (CSR) initiative for cardiac surgery in the near future.  
Additionally, Royal Phnom Penh Hospital has been collaborating with specialists from Wattanasoth Cancer Hospital (a facility devoted to cutting-edge cancer treatment and research, and also part of the main Bangkok Hospital campus) and is now able to offer chemotherapy treatment in Cambodia.
The hospital recently invested in ESWL: Extracorporeal Shock Wave Lithotripsy® equipment. Used in the USA, it is the most advance technology for targeting and breaking up kidney stones with high accuracy. The treatment will be available at Royal Phnom Penh Hospital from late 2018.  
At Royal Phnom Penh Hospital the best medicine is excellence.


---
For further information, please visit Royal Phnom Penh Hospital
No. 888, Russian Confederation Blvd. Sangkat Toeuk Thla,
Khan Sen Sok, Phnom Penh, Cambodia.
Tel: +855 (0)23 991 000
Email: info@royalphnompenhhospital.com
---
For more information, please contact