Doctor urges government to place trauma prevention and care on national agenda. Nationwide trauma care network should be established.
3 minute(s) read
A senior doctor is calling on the government to reinforce a trauma problem in Thailand as an urgent problem on the national agenda.


Dr Suthorn Bavonratanavech, chief of the BDMS orthopaedic and trauma care network and chief of faculty at the Bangkok Orthopedic Center of Excellence explain his responsibility to develop Center of Excellence in Trauma care throughout 46 hospitals network of BDMS group. Each region in Thailand has been designated to have a fully equipped with facilities as a Truama Center. They will serve as referral point for emergency patients to quickly transfer to hospitals that can provide proper treatment to them.
​
He was speaking in a special interview session arranged in Bangkok Dusit Medical Services (BDMS) Academic Annual Meeting 2018. The symposium is organised with the concept of "Excellent Healthcare Network: Medical Advances Meet Compassion" at a hotel in the city. The event will run until August 17.
"In an emergency, time is critical," Dr Suthorn said, adding trauma injury requires urgent care no matter how severity it is as in some cases it can be life-threatening.
Injury is the leading cause of death in Thailand with road accident topping the list of emergency cases resulting in high rate of deaths. While a number of people who are injured and survive have life-long mental, physical and financial problems. 
According to the World Health Organization (WHO), around 5,500 people die each year in motorcycle accidents in Thailand – the highest rate in the world. Thailand was ranked by the WHO the second-most dangerous country in the world for road accident deaths after Libya.
Even though the government has launched road safety campaigns during festive events, more action need to be done to tackle trauma-related problems.
"It's time to set up trauma care network centresfrom different stakeholders," Dr Suthorn said, calling on related parties to put their head together to come up with a development plan.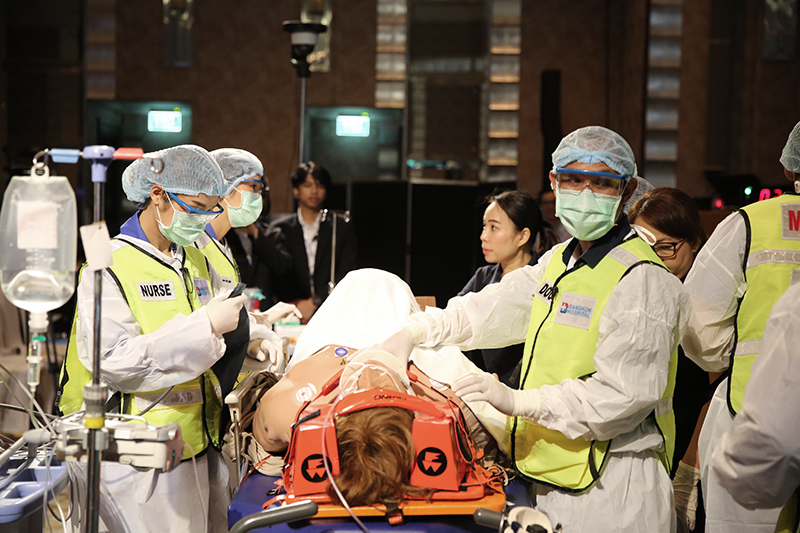 ​
BDMS launched 'BDMS MEDEVAC CENTER', the country's first full-scale emergency call centre to serve emergency patients last year. The centre is fully equipped to handle different aspects of immediate care needs after trauma. The centre's team of specially-trained surgeons and nurses are able to provide the highest quality care for a range of patients – from critically injured accident victims to patients requiring urgent critical care from slips and falls and those needing quick and effective treatment of a broken bone. The centre also has ambulance services either by air, land or sea. Its medical protocols include patient assessments, preparation, transportation and treatment.
Speaking in the same session, Prof Dr Christian Krettek of Hannover Medical School said German trauma system is well organised and it can help save lives once injuries have occurred.
According to him, the idea of decentralized system of trauma care medical centres was originated in 2003, with the aim of providing timely and effective care to patients.
He said each of trauma centre has certain level of equipment, which is staffed by an experienced trauma team who is able to provide a multi-disciplinary approach created to coordinate multiple aspects of treatment and follow-up care. At centres, patients are given immediate access to full services including CAT scan.
​
The country also has effective pre-hospital trauma care system which incorporates car-based- and helicopter-based ambulances, he added.
"Avoiding trauma (seems) to make more sense than treating trauma, Prof Dr Krettek said, urging people to be aware of risk factors for injuries.
Asked to comment on bdms trauma care centre, Prof Dr Krettek said the centre has very good basis in term of infrastructure and staff. The centre's team is able to identify the problem very well, he added. 
---
For more information, please contact