BDMS and OHSU collaborate to improve human health in Southeast Asia
5 minute(s) read
Bangkok Dusit Medical Services is teaming with Oregon Health & Science University, Portland, Oregon, U.S.A., to improve health in both countries through shared knowledge and skills and the creation of centers of excellence focused on key challenges. The effort will engage faculty, health professionals and students from OHSU's schools of medicine, nursing, pharmacy, dentistry and public health.
"At BDMS, we have been exploring the possibilities of aligning ourselves with a prominent academic hospital like Oregon Health & Science University which has a recognized international reputation for clinical quality, research innovation and educational excellence," said Prasert Prasarttong-osoth , M.D., BDMS President & Group CEO. "Our hope is, together with OHSU, to become a leader and center of excellence in occupational health in Southeast Asia and around the world."
To ensure a seamless, comprehensive program reaching as many people as possible, Mahidol University and its medical school, Siriraj Hospital, will also play an important role in the collaboration. Mahidol University will sign a separate agreement with OHSU.
The three organizations will develop comprehensive education, research and health promotion plans that will improve the quality of health care in Thailand. This collaboration will also benefit OHSU by providing opportunities for faculty and staff to innovate, educate and learn from each other while working together across differing cultures.
"For OHSU, collaboration and innovation are in our DNA. When we are willing to work with others to solve problems in the name of the public good, the opportunities are limitless. We are taking collaboration to the next level. This initiative will serve both Oregon and Thailand as a platform for education and research and cross-cultural scientific exchange," said Joe Robertson, M.D., M.B.A., President, Oregon Health & Science University.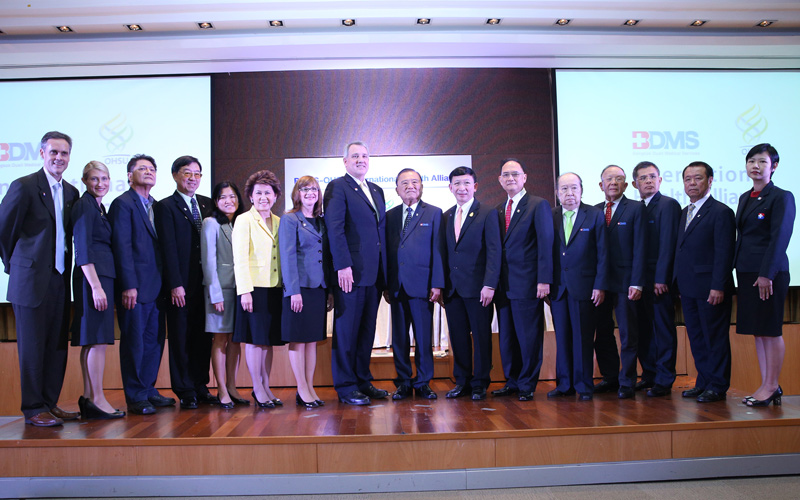 On Oct. 29, OHSU and BDMS will sign a five-year memorandum of understanding that will establish the "BDMS-OHSU International Health Alliance". The agreement calls for the creation of "Centers of Excellence" built on an interprofessional approach. The first of these will focus on occupational health and informatics. OHSU is one of only four Total Worker Centers of Excellence recognized by the United States Centers for Disease Control. OHSU is also a leader in informatics innovation and research.
"International exchange is vital to today's health care education and research," said Jeanette Mladenovic, M.D., M.B.A., Executive Vice President and Provost, Oregon Health & Science University. "Every nation faces unique health challenges and develops a distinct knowledge base that could be successfully applied to other problems. Our plan—comprising education, research, and health promotion—incorporates international standards and develops our own talent base. And more importantly, it provides an essential opportunity for our students and faculty to be inspired by learning from other cultures."
Through these efforts, BDMS, Siriraj/Mahidol and OHSU will establish a trend for reciprocal sharing of expertise across international boundaries based on the mutual pursuit of research breakthroughs, clinical innovations and emerging technology.
"We are proud that OHSU has entrusted BDMS with their very first international collaboration center in Asia. With guidance from our U.S. collaborator, OHSU, we can quickly chart a course to achieve the highest standard of quality care to benefit not only our patients, but the country of Thailand," said Chatree Duangnet, M.D., BDMS EVP/GCOO-Med Affairs.
AbouT Bangkok Dusit Medical Services
Bangkok Dusit Medical Services Public Company Limited (BDMS) (http://www.bangkokhospital.com) is an operator of the Bangkok Hospital and a network of Healthcare Subsidiaries in Thailand and abroad. The BDMS has been contributed by a network of six major hospital groups including Bangkok Hospital, Samitivej Hospital, Phyathai Hospital, Paolo Memorial Hospital, BNH Hospital, and Royal Hospital which together will further fortify our driving force towards ever greater success in the future. The Company is committed to be the leading network healthcare provider by meeting the needs of Thai and foreign patients with high quality, value services together with the state-of-the art medical technology and internationally-accepted standards. The network has grown to include 37 hospitals of international standard, both at home and abroad – 14 of which have received Joint Commission International Accreditation (JCI) of the United States.
AbouT Mahidol University /Siriraj Hospital
Faculty of Medicine Siriraj Hospital, Mahidol University (http://www.si.mahidol.ac.th) Established in 1888 by H.M. King Chulalongkorn, the Faculty of Medicine Siriraj Hospital at Mahidol University is the first medical school in Thailand. Enriched with "SIRIRAJ" culture and traditions for more than a century, the Faculty has produced medical graduates and allied health personnel with distinctive character, vision and ability to serve the health care system around the country. The university has been consistently ranked at the top in the nation for research with increasing amounts of funding and publications each year. As a leading medical institute accredited with international standards in Thailand, the Faculty of Medicine Siriraj Hospital has attracted many foreign universities to share global perspectives on education, health care and research. With a capacity of more than 2,200 beds and more than 3 million outpatient visits per year, Siriraj is one of the largest and busiest medical centers in South East Asia. Each year the medical school accepts about 300 new medical students and more than 1,000 doctors and approximately 400 graduate students for postgraduate training and education in various specialties. Due to her excellent reputation, Siriraj Hospital continues to be the major referral center for all hospitals in Thailand.
AbouT Oregon Health & Science University
Oregon Health & Science University (http://www.ohsu.edu) is a prominent U.S. research university and the state of Oregon's only public academic health center. It trains health professionals through its schools of medicine, nursing and pharmacy, which all rank highly in research funding. OHSU is home to nationally ranked OHSU Hospital and Doernbecher Children's Hospital, and dental clinics, which are among the busiest providers in the state. OHSU's Knight Cancer Institute helped pioneer personalized medicine through a discovery that identified how to target and destroy cancer cells without harming healthy ones. OHSU Brain Institute scientists are nationally recognized for discoveries that have led to a better understanding of Alzheimer's disease and new treatments for Parkinson's disease, multiple sclerosis and stroke. OHSU's Casey Eye Institute is a global leader in ophthalmic imaging, and in clinical trials to find cures for eye diseases, including those which cause blindness. OHSU is also a leader in promising research aimed at creating a vaccine to prevent HIV/AIDS.